Break through competition
Convenience stores are facing increased competition from Quick Service Restaurants (QSRs), dollar stores, and mini-marts opened by larger grocery and pharmacy chains. In order to stay competitive in an evolving retail environment, c-stores need to be community destinations where customers want to shop, not just a place to go when there isn't a better option. The future of convenience stores relies on customer experience and community engagement.
The idea of c-stores as community destinations may seem out of touch with the current in-and-out model of convenience stores that serve commuters and other customers in transit. However, the in-store experience helps drive repeat business. C-stores are already competitive in terms of speed and value, so focusing on improving customer experience (CX) is the best way to stay competitive.
Nailing the Customer Experience Basics
Based on research from NACS and Coca-Cola Retailing Research Council, customers define convenience as a comfortable and frustration-free shopping experience. What makes for a "comfortable and frustration-free" experience varies from customer to customer, but NACS identifies some CX basics that are universal:
Safety – Customers want to feel at ease. Keep the store and parking lot well-lit. Greet customers as they enter. Create a bright and inviting environment with plenty of visibility.
Cleanliness – No one wants to shop in a dirty store. Clean the store and bathrooms regularly. Have trash cans and recycling bins for customers. Reduce clutter in the store.
Responsiveness – Make shopping easy for customers. Keep top selling items where they're easy to find. Have associates available to answer customer questions. Don't let checkout lines get too long.
If customers don't feel comfortable in the store or can't find what they're looking for, they may complete their purchase, but they won't become repeat customers. Without nailing these basics, more sophisticated CX efforts are pointless.
Optimizing labor is key to achieving a spotless, welcoming store. Using Reflexis Workforce Manager and Advanced Analytics, c-stores can accurately forecast labor needs using both historic and real-time data; labor can be allocated correctly to ensure that the store is clean, shelves are stocked, and associates are available to help customers. Having the right people working at the right time means that customer expectations are met consistently.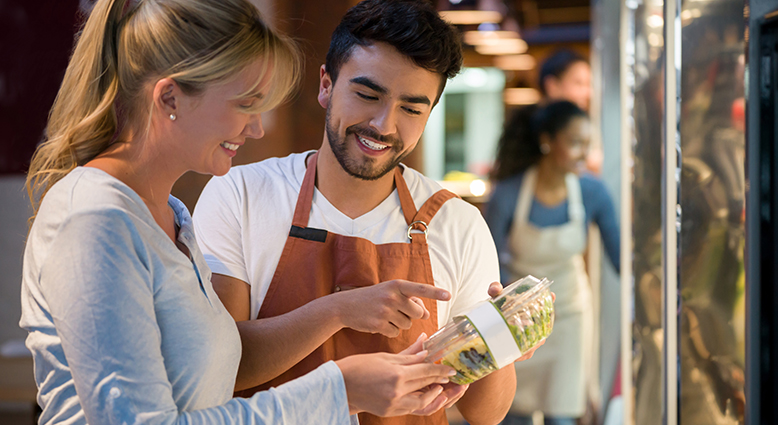 Just meeting expectations isn't enough. Customers also want a personalized shopping experience. There are several ways c-stores can introduce personalization into stores, including:
Loyalty – Loyalty programs are one of the most common forms of personalization. Using apps or loyalty cards, customers opt-in to receive promotions based on location and purchase history.
Technology – Using technology like mobile apps for order-ahead or smart screens at gas pumps, stores can make it easier for the customer to place orders and learn about promotions before they even enter a store.Community – C-stores can integrate into the neighborhoods they serve by building promotions around local events like sports games and partnering with local charities.
These methods build brand awareness with customers and add value to their in-store experience. Added value for customers means increased sales for stores.
The Convenience Store of the Future
As competition becomes tougher and technology continues to get more advanced, both the pressure and the opportunities to create a more personal shopping experience grow.
Research from Forrester highlights the role of technology in the future of customer experience. Stores are incorporating omnichannel models like BOPIS (Buy Online, Pick Up In Store). App-based loyalty programs can bring gamification and Augmented Reality (AR) to the customer experience. Advancements in surveillance technology and Artificial Intelligence (AI) could introduce entirely new shopping experiences.
While it's yet to be seen which technologies will ultimately take off in the retail industry, the overall impact on customer experience is undeniable. The retail trends identified by Forrester reflect some basic foundations for the new c-store model—use technology to drive CX, add value in store, and personalize the customer experience.
For more information on the future of convenience stores, read our white paper, Drive Convenience Store Success with Retail Technology.